Alameda., Calif.
Books, Inc.

Amherst, MA
VALLEYWOOD II: A Celebration of the Digital Arts in the Pioneer Valley presents . . . Kid's Stuff for the Kid's Market
Featuring top children's authors, illustrators and animation studios for business networking and on-screen showcase
Tuesday, May 12
5 – 8 p.m.
Amherst Cinema Center for the Arts
28 Amity St
Story Time
Sunday, May 3
2 p.m.
The Eric Carle Museum of Picture Book Art
125 West Bay Road
Amherst, MA
THE ERIC CARLE MUSEUM OF PICTURE BOOK ART, Amherst, Ma.       
Photo Amy Zuckerman

BOOK PARTY

Saturday, March 28
10 a.m.
Amherst Books
Main Street (across from town hall)
Brimfield, MA
The Brimfield author's night       
Photo Amy Zuckerman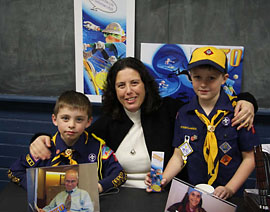 Amy Zuckerman and two scouts from Brimfield, Mass.

Greenfield, MA
GREEN FAIR
Saturday, April 18
11 – 2 p.m.
Franklin County Fairgrounds
Greenfield, Ma.


See photos »

Northampton, MA
WHOLE HEALTH EXPO
Sunday, March 8
1 – 3 p.m.
The Clarion Hotel and Conference Center
1 Atwood Drive (off exit 18, Rt. 91)
Northampton
Pelham, MA
Pelham Elementary

See photos »